Lightspeed OnSite uses a root certificate to establish a secure connection between the server and the client. The original certificate included in OnSite at its release has a 10-year lifespan which will expire on July 22nd, 2019. In order to continue using Lightspeed OnSite after that date, you'll need to update this certificate.
If you are running OS X 10.8 or later and have a qualifying subscription or maintenance license, you can upgrade your client to a newer version of OnSite that includes the new certificate.
If you are unable to upgrade (or prefer not to) for any reason, you can download and run the Certificate Updater, a patching tool that will update your certificate and nothing else. This patching tool is available to everyone and is free of charge.
Running the Certificate Updater
Downloading and running the patching tool is simple and takes only minutes. Take note that you will have to do so on every computer that is running the Lightspeed OnSite client.
Download the patching tool here.


CertificateUpdater.zip

cd5183112e233c2395a0c7a4d2e33fd4a68b44ce

Navigate to your downloads and double-click the Certificate Updater.
Do one of the following:

Drag and drop method:

Navigate to your Applications folder.
Drag and drop your Lightspeed client from the Applications folder onto the Certificate Updater.

Browsing method:

Click Select
Browse to your Applications folder.
Select your Lightspeed client.
Click Open.

Depending on your security settings, you may see a prompt asking to confirm the changes. Enter admin credentials for the computer and click OK.
The Certificate Updater should then confirm that the patching was successful.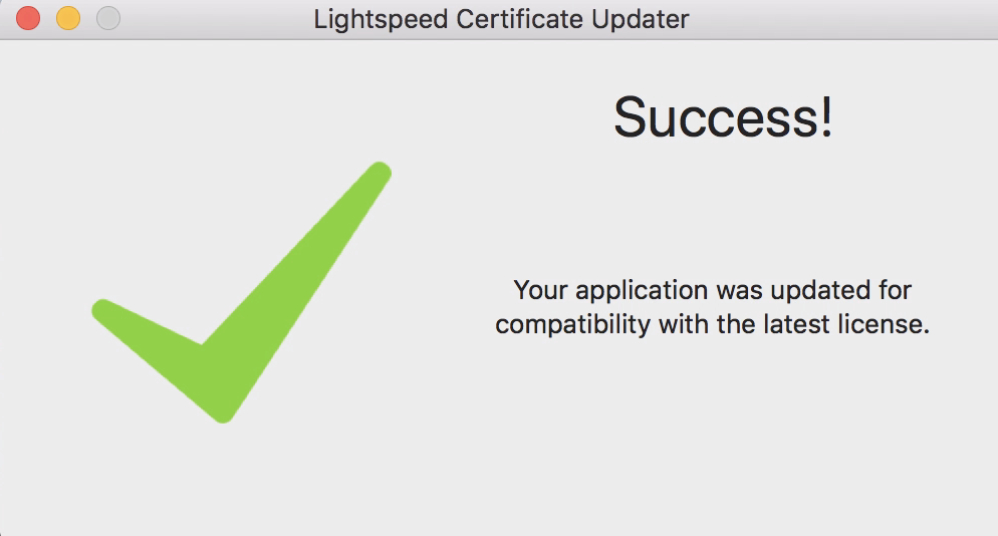 Upgrading your client
All new upgrades for Lightspeed OnSite from now on will include the updated certificate. The next planned upgrade is 2019.2, which will release this spring with ample time to upgrade before the expiration of the certificate. You will be able to upgrade to 2019.2 if you meet the following criteria:
you will have a valid subscription or maintenance license when it is released.
your operating system is macOS 10.13 or later.
If you are running an older operating system, however, you may not have the option to upgrade to newer releases. For that reason, we have made the following upgrades available:
| | | |
| --- | --- | --- |
| Update | Operating System Requirements | Perpetual License Requirements |
|  2015.2.3.5 |  OS X 10.8 or later | Had a valid maintenance subscription on Oct. 28, 2015. |
|  2016.1.3.5 |  OS X 10.10 or later | Had a valid maintenance subscription on Sept. 13, 2017. |
|  2018.1.0.2 |  macOS 10.12 or later | Had a valid maintenance subscription on Jan. 31, 2018. |
These legacy upgrades will update the root certificate and can be found on the downloads page.
You can learn more about upgrading Lightspeed OnSite here.
eCom and OnSite
IMPORTANT: If you use Lightspeed eCom with OnSite and are upgrading to version 2016 1.2.x or later for the first time, you will encounter this message after upgrading: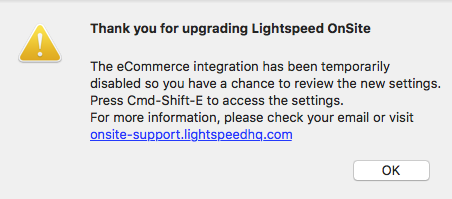 This indicates that Lightspeed OnSite has disabled eCommerce to give you an opportunity to review the new field-mapping introduced in version 2016 1.2.x. When eCom is reenabled after this upgrade, Lightspeed OnSite will use the new field-mapping and could overwrite any product information in your eCom store with the information in OnSite, including removing any images that have been added through the eCom Backoffice that are not in OnSite. Please ensure that your product information is up-to-date in OnSite, including product images. As an added precaution, we recommend exporting your product data from the eCom Backoffice before reenabling eCom. Please contact our Support team if you have any questions about how best to proceed.
Updating your iPad app
If you are operating Lightspeed OnSite on an iPad, you'll need to update the app in order to renew the root certificate. The new certificate is included in Lightspeed OnSite version 1.7.1 and later. You'll need to update to at least this version before July 22nd, 2019 to ensure uninterrupted access to your point-of-sale. OnSite version 1.7.1 requires iOS 9.3 or later.
To update your app:
Tap App Store on your iPad.
Navigate to the Updates section.
Find Lightspeed OnSite in your list of apps and tap Update.
The OnSite app will automatically close during the update process. When the update is complete, Lightspeed OnSite will move from the Pending section to the Updated Recently section of the App Store. With the new certificate installed you will be able to launch the app as normal.
The new certificate
Once the new certificate is installed, the expiration of the old certificate will not affect you and you can continue to use Lightspeed OnSite as usual. The new certificate is good until the year 2118, so you will expire before it does.
I'm locked out, what do I do?
You have two options:
Update your certificate, either by upgrading your version of OnSite or running the Certificate Updater.
Convince Lightspeed OnSite that it is not July 22nd, 2019.
We highly recommend running the Certificate Updater as it will be the fastest, cleanest way to get you up and running again. If, however, you are unable to do so for whatever reason, it is possible to set your system clock to a date prior to July 22nd, 2019. To do so:
Click the Apple icon in the top left-hand corner of your screen.
Select System Preferences.
Click Date & Time.
If there is a padlock icon in the lower-left of the window, click it and enter admin credentials for the computer to allow changes.
On the Date & Time tab, uncheck Set date and time automatically if it is checked.
Use the calendar interface to select a date prior to July 22nd, 2019.
Click Save.
With your system clock changed, your old certificate will pass inspection and you will be able to log in to Lightspeed OnSite, however all of your activity for the day -- including all sales -- will be recorded under the false date as well. For that reason, this course of action should be considered a last resort.
If you have any questions or require any assistance, please contact our Support team.