OnSite warehouses are virtual stockpiles that provide greater flexibility for organizing your inventory. Product quantity you transfer to a warehouse will appear in your totals but will not be marked as available and cannot be sold. This is useful for products you want to use as demo equipment or products that are floor or display items, for example. You can have up to ten virtual warehouses.
Setting up a Warehouse
In OnSite StoreMaster on the Tools menu click Setup > Products > Warehouses.
Name your warehouses and save your changes.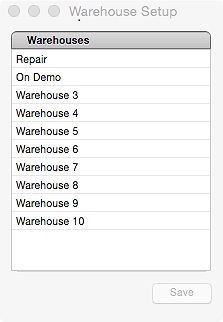 Transferring Products to a Warehouse
You cannot receive products directly to a warehouse, but you can transfer product quantity from your inventory to a warehouse. To do so:
Select the product you wish to transfer.
Click the Inventory tab.

Click the Transfer button.

Under Transfer Inventory, use the From drop-down menu to select the source you wish to transfer quantity from.
Enter the quantity you wish to transfer into the Qty field.
Use the To drop-down menu to select the destination (in this case, a warehouse).
Click Transfer.
Once you have populated a warehouse with product, the quantity contained in that warehouse can be adjusted by performing an Inventory Count, however products cannot be transferred to a warehouse in bulk. They must be transferred one product at a time, however you can transfer whatever quantity of that product is available at the source.